Easter celebrations at Othona
Thur 14th April- Tue 19th April 2022
Please enquire about the APR NHS bursary scheme if you are a NHS worker or a carer. You may be able get up to a 50% bursary for this event.
Space is available on this event! :-D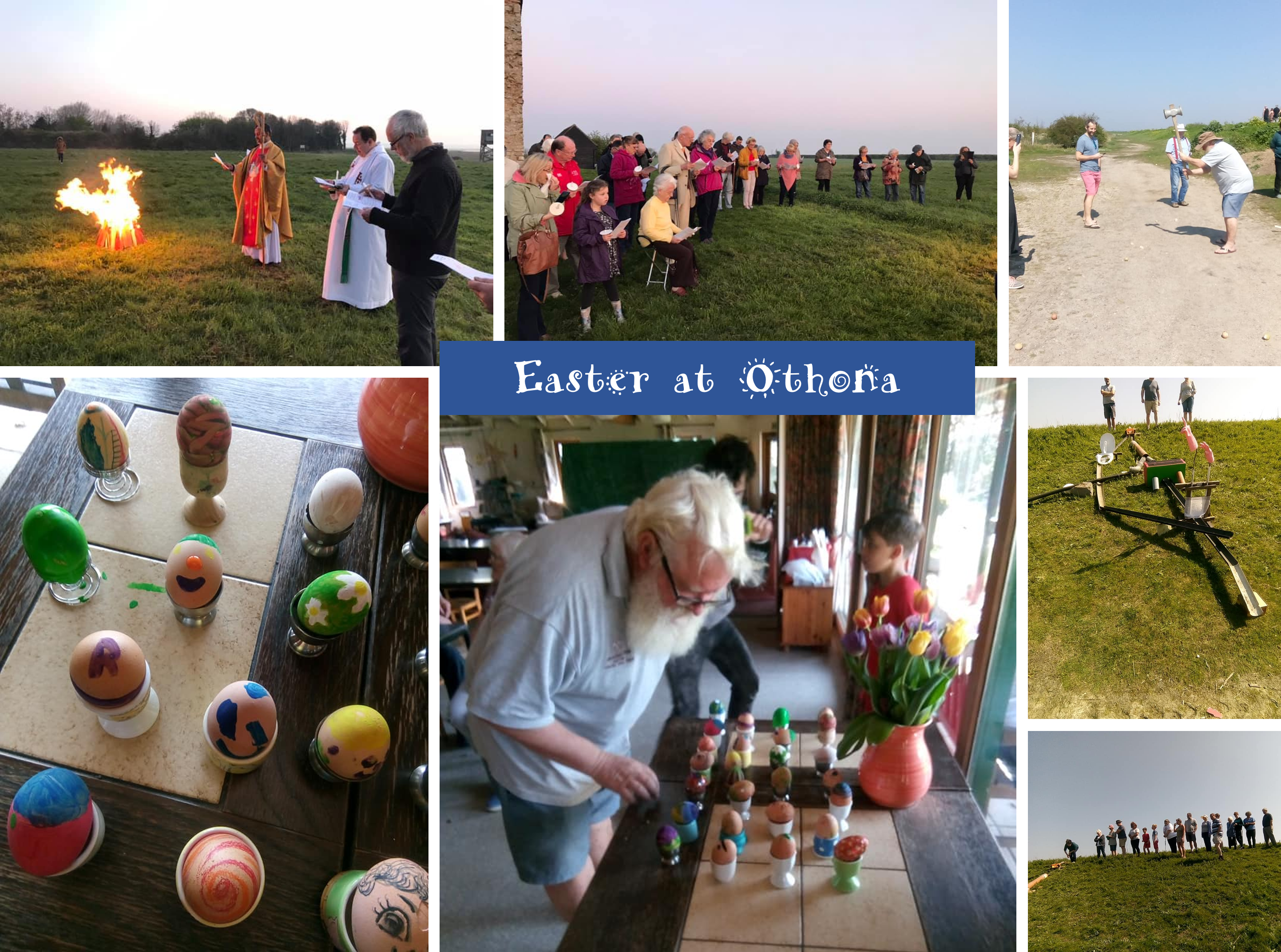 Led by Phil Martin, Phil Wright and Kate Mulkern
This year we welcome back Phil Martin to lead our Easter Celebrations along with Phil Wright and Kate Mulkern. Phil Martin has worked with children, young people and families for over 25 years and has been part of the Othona Community for many years. This will be his third time leading our Easter celebrations and it will be an extra special occasion as it will be Tim's last weekend here as Warden. Tim has worked with both Phil's for many years both at the YMCA and Othona.
We will be following the Journey of the Easter Story Weekend and exploring and applying what the Easter story message means today - to each of us and for our communities?
We start on Maundy Thursday with a Passover meal led by Kate, a well known member of Othona. On Friday some might like to join the congregation from Bradwell village in their procession from St Thomas Church to St-Peter-on-the-Wall Chapel, where there will be a vigil service. There will be a bonfire and service on the beach on Saturday. On Easter Sunday we will join with people from the local area for a dawn service at the Chapel led by the Bishop of Chelmsford, The Rt Rev Dr Guli Francis-Dehqani, followed by a cooked breakfast back at Othona.
Throughout the weekend there will be plenty of activities for children and adults alike including discussion sessions, reflections, arts & crafts and games. We will have the usual egg painting competition followed by egg rolling on the carefully crafted egg run and the last chance to see the 'mallet of justice', wielded by Tim, in action to dispatch all the unsuccessful eggs. There will also be an Easter egg hunt in the orchard to stock up on more chocolate eggs!
The Easter weekend runs from Thursday to Tuesday but if you are only able to come for some of this event then please contact us as this might be possible.
Arrivals: from 3pm Thursday - Passover meal at 7pm
Departures: Tuesday morning 11am
Cost: Adults £225 (Basic Rate) £280 (Benefactor Rate), normal child rates apply. If you are bringing two or more children with you, aged 3-18 years, then the oldest child is free of charge for this event.  We may be able to offer concessionary rates (25% reduction) at the Manager's discretion. Please contact us to find out more.
When
14 Apr 2022 15:00 through 19 Apr 2022 11:00
Othona Community, Essex
East End Road
Bradwell-on-Sea
Essex
CM0 7PN-CM0 7PN
Contact
Landline:
01621 776564 ext. 01621776564
Landline:
01621776564 ext. 01621776564