Submitted by

Bradwell Office

on Tue, 01/09/2020 - 14:27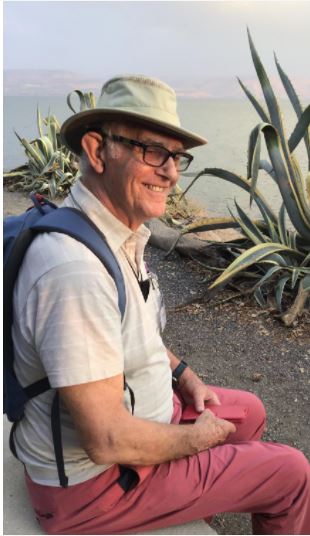 Many of you will remember David Buck, who was a long-term part of the Othona Community and the inspiration behind the Peace Garden. We were very sad to hear that he had recently passed away and our thoughts and prayers are with Gillian, his wife, and the rest of his family. Gillian let us know that;
"David sadly passed away at Southend University Hospital on 6th August 2020 aged 86 years. David loved people. He had a gift for friendship: giving it, sharing it, enjoying it. His love for his family was enormous; for friends his love was huge. He enjoyed visiting people to share their stories and adventures, as well as sharing his own. His love for Jesus as his Saviour was evident"
Paul and Judy Fox knew David and his wife Gillian well and have shared some memories of him;
"David first came to Community to write a book and wanted somewhere quiet and away from the everyday, this was in Gail & Matthews time.   During his stay he came up with the idea of the Peace Garden & Labyrinth.  He gave money towards the project and got others to help with funding.  He also was hands on during its construction and we remember him pushing the wheelbarrow with Sam up the slope.   We met him and his wife a few times and he asked Paul to give a talk about Palestine at his Church in Welwyn Garden City and we went one Sunday and had lunch with them both and Paul spoke to a group in the evening.   
A few months/year after his first wife died he was staying at Othona for a few days and Gillian was there for the first time and this was a few months after Bill had died, I introduced them to each other thinking they would be able to talk and help each other.  A couple of weeks later Gillian came round to see us and told us they were seeing each other and about a year later they married and they always refer to me as the Matchmaker!   
David was a very kind and caring man, willing to help, listen or talk.  His faith was very strong and meant a lot to him.  We sometimes saw him on Sunday mornings pushing Gillian's mother to Church as the nursing home is just round the corner to us.   He and Gillian would knock on our door during lockdown when they went to see her mother to ask if we were ok and if we needed anything."
David contributed greatly to the life of the Community and will be greatly missed. He often visited here for lunch and would always spend time working in the Peace Garden and we were fortunate that he and Gillian were able to visit very recently. There is a funeral service for close family and friends on September 1st but there will be a memorial service for others to attend at a later date.