Submitted by

Bradwell Office

on Sat, 30/09/2023 - 11:05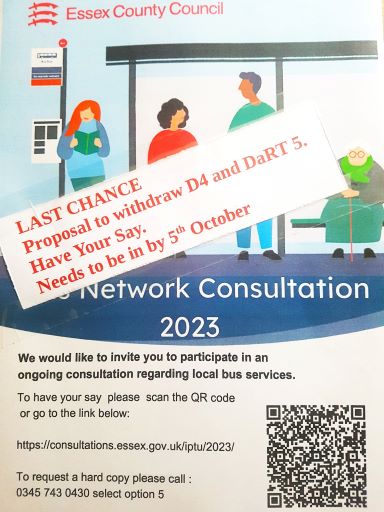 Many folks travelling to Othona by public transport will be familiar with the DaRT 4 bus service from Southminster train station. There is currently a consultation by Essex County Council on whether to withdraw or reduce this service. This would greatly impact all those who travel here by public transport as the DaRT 4 service is a vital link between Southminster train station and the Othona Community. It is also a very important service for those living in the local area who rely on public transport, including all our volunteers who don't drive. Please can you support us to try and keep this service going. Can you fill in the online survey by following the link below?
https://consultations.essex.gov.uk/iptu/2023/consultation/subpage.2023-06-16.4450127625/
The consultation ends by the 5th of October so time is running short, we only just became aware of this threat to the local service. Please could you also send an email to the following people:
Lead Elected Member for Transport to Lobby = Lee Scott = cllr.lee.scott@essex.gov.uk
Lead Officer for Transport = Mark Ash = Mark.Ash2@essex.gov.uk
We have drafted some suggested wording but please adapt this to your own position:
With reference to the D4 Bradwell on Sea - Burnham on Crouch bus route consultation on proposed withdrawal of route.
I am a regular traveller to Southminster Station via public transport so that I can travel on to attend events and stay at the Othona Community at Bradwell on Sea. The D4 bus route is the only available public transport link to Bradwell on Sea and the Othona Community. Many people, especially those with disabilities and older people use the D4 bus service to reach Bradwell on Sea and the Othona Community.
The Othona Community has been attracting people to Essex since 1946. The Othona Community draws 100s of people to Essex and Bradwell on Sea through a series of programmes and events and community activities. The D4 bus is a vital service for people to reach Bradwell on Sea, St Peters Chapel and the Othona Community.
I am personally willing to pay more to support the D4 bus service and I also firmly believe others would be willing to pay more.
Therefore please do not withdraw the D4 Bus service.
Kind regards
Thank you for your support