Art Workshop
Mon 7 Nov -  Fri 11 Nov 2022
Space is available on this event! :-D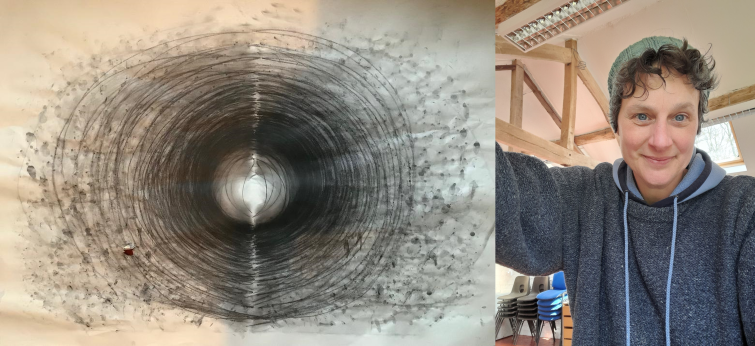 Led by Genevieve Collier
An invitation to get immersed in three days of artmaking for personal reflection and to explore what within you needs to be expressed. 
Art making can be soothing and offer respite, it can ignite sparks of imagination, it can put you in touch with deep feelings.
Art skills or being able to draw are not important for this retreat. You might make marks and images that make no sense to anybody else but the experience of making them has meaning for you. 
This is a space to connect with yourself through art making, in the company of a small group.
A range of art materials will be provided, and you are welcome to bring any favourite materials or half-completed projects.
We will come together for morning group sessions involving simple, guided tasks and creative exercises to help find personal starting points.
The afternoons will be run as an 'open studio' with space to carry on developing your own images and projects. You may want to spend some of  this time going for walks, resting, sketching, reflecting.   
We are able to use Othona's dedicated art room within one minute's walk of the sea.
Othona will be quiet during this week, and in the evenings, we may watch films together, hang out or spend time by ourselves.
This retreat is not called therapy as it is not offered as a treatment but will be run as a safe place for sharing any emotional reactions.  People with lived experience of using mental health services are welcome.  All participants will be asked for a brief phone call beforehand to understand your needs and expectations.
Genevieve Collier is an Art Psychotherapist (HCPC registered and BAAT member). She recently moved to rural Worcestershire after many years living and working in the voluntary, community and arts sectors of London. She is interested in our need for community in our individualistic culture, and how important belonging is to our personal wellbeing.  Genevieve first visited Othona in summer 2021 and was moved by the kindness and inclusivity of this well-established community, as well as the unique landscape it sits in.
Arrivals: from 3pm Monday - first meal is dinner at 7pm
Departures: Friday morning 11am
Cost: Adults £180 (Basic Rate) £225 (Benefactor Rate), normal child rates apply.  We may be able to offer concessionary rates (25% reduction) at the Manager's discretion. Please contact us to find out more.
When
07 Nov 2022 00:00 through 11 Nov 2022 00:00
Othona Community, Essex
East End Road
Bradwell-on-Sea
Essex
CM0 7PN-CM0 7PN
Contact
Landline:
01621 776564 ext. 01621776564
Landline:
01621776564 ext. 01621776564