An opportunity to hear about the work of A Rocha UK
Wed 9th March- Fri 11th March 2022
Please enquire about the APR NHS bursary scheme if you are a NHS worker or a carer. You may be able get up to a 50% bursary for this event.
Space is available on this event! :-D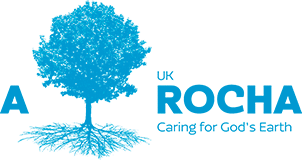 This event will be led by Andy Lester and Regina Ebner from A Rocha UK.  A Rocha UK (ARUK) is a Christian charity working for the protection and restoration of the natural world and committed to equipping Christians and churches in the UK to care for the environment.
During this event we will have two members of A Rocha here to provide more information about their work and in particular their Partners in Action Scheme, which is a collaborative network of Christian land managers demonstrating active care for the natural world. We will hear about some of the encouraging and inspiring ongoing work in a talk "Hope for Creation"  focussing on why it's not too late to act for nature and what practical steps they and their partners are currently engaged in.
There will also be a chance to participate in practical activities where Andy and Regina will share their expertise whilst supervising work around our site.
This should be a great event and a chance to find out about their Eco Church and Wild Christian schemes as well as the wider work.
Andy Lester is the Head of Conservation for the Christian Wildlife charity A Rocha UK.   He is a frequent speaker on environmental issues and writes three regular columns on the subject for regional newspapers.  Andy volunteers as a local chair for the Hampshire and Isle of Wight Wildlife Trust as well as Conservation Officer for the Hampshire Ornithological Society.   Andy lives near Southampton with his South African wife and four boys.  Any spare time he has is spent running, watching wildlife, scrambling, kick boxing or kayaking. 
Regina Ebner is the Partners in Action coordinator for the Christian conservation charity A Rocha UK. She works on networking Christian organisations, places of worship, adventure centres, conference centres and farms on caring for their land, for nature, people and climate. Regina has a background in project development, team building and permaculture food growing. She has a passion for bringing people together to reconnect them through adventure, fun and learning to nature and the land. She lives at Ashburnham Place in East Sussex (one of the Partners in Action) with her goats and happy chickens. She loves the outdoors and enjoys it through sports such as hiking, slacklining, climbing and snowboarding as well as looking after a productive patch of veg garden. In her spare time she has developed a charity in Madagascar, with a focus on sustainable education and has headed up the development of a new school.  
Arrivals: from 3pm Wednesday - first meal is dinner at 7pm
Departures: Friday morning 11am
Cost: Adults £90 (Basic Rate) £112 (Benefactor Rate).  We may be able to offer concessionary rates (25% reduction) at the Manager's discretion. Please contact us to find out more.
When
09 Mar 2022 15:00 through 11 Mar 2022 11:00
Othona Community, Essex
East End Road
Bradwell-on-Sea
Essex
CM0 7PN-CM0 7PN
Contact
Landline:
01621 776564 ext. 01621776564
Landline:
01621776564 ext. 01621776564