Listening to Clay
Sat 6th August -  Sat 13th August 2022
Space is available on this event! :-D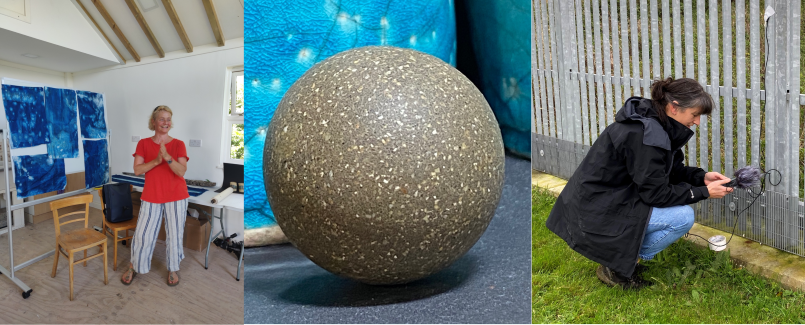 Led by Angenita Teekens-Hardy and Nastassja Simensky
The landscape around the Othona Community is always a great inspiration for art works. Both Angenita and Nastasja are artists who work in the landscape using observation, sound, photography and natural materials. This week is suitable for the whole family. Workshops will revolve around exploring the landscape by listening to it and, walking and swimming. Collecting materials and using these to make Art. 
 Using the old cast iron printing press for collagraph and monoprints resulting in collage.  We will be working with earth, clay, sand and hay to produce a dorodango. Also known as a mudball. Come and join us, we are looking forward to meeting you. 
Angenita and Nastassja
  Angenita Teekens is an established artist with 25 years of experience in facilitating environmental community art projects. She studied at the Art academy in Tilburg, Netherlands and gained a Master's degree in Sculptural Practice from the University in Essex, England. She researches the Blackwater Estuary.
   Collaborating with Essex University, the Phycological Society, the Nuclear Culture Research Group, and the Othona Community.
   Angenita is passionate about using creative expressions and environmental research as a way of getting people connected to their natural environment. She sees this as an essential way forward to a more sustainable world.
   The restoration project, "Coastal Park "by Angenita at the Othona Community was highly commended by Maldon District Council in their conservation and design award scheme 2016.
   In 2021 she received a grant from the Arts Council to look at the relationship between the ocean and old industries and in particular the Nuclear Industry. News of this project is available on her website and blogs.
  Angenita is a swimmer and explores the estuary whilst being in and on the water. 'How else' she says,' can you talk about, something you can't feel'.
   She a member of Arts Network and has full public liability insurance.  She works as a freelance artist and as a deputy manager of an arts and crafts centre. Her practise lies firmly within the landscape, environmentalism and communities. 
Nastassja Simensky is an artist, PhD researcher and lecturer who often works collaboratively to make writing, place-specific performances, events, sound work and films as a form of ongoing fieldwork. Commissions and residencies include: SHERDS, Nottingham Contemporary, 2020; Zu Gast bei den KunstVereinenRuhr, Urbane Kunst Ruhr, 2019; Brightspot, Diaspore Project Space, 2018; Material Culture Unearthed, In-situ Brierfield, 2018; Radiophrenia, Centre for Contemporary Art Glasgow, 2017; Estuary Festival 2016: Points of Departure, 2016; Fictive Dreams, ICA Singapore, 2016. 
Arrivals: from 3pm Saturday - first meal is dinner at 7pm
Departures: Saturday morning 11am
Cost: Adults £315 (Basic Rate) £394 (Benefactor Rate), normal child rates apply. If you have two or more children then the oldest goes free.  If you would like to bring your own tent/campervan for the event then there is a reduced price of  Adults £236 (Basic Rate) £296 (Benefactor Rate), please indicate you would like to camp in the comments section of the booking form. We may be able to offer concessionary rates (25% reduction) at the Manager's discretion. Please contact us to find out more.
When
06 Aug 2022 00:00 through 13 Aug 2022 00:00
Othona Community, Essex
East End Road
Bradwell-on-Sea
Essex
CM0 7PN-CM0 7PN
Contact
Landline:
01621 776564 ext. 01621776564
Landline:
01621776564 ext. 01621776564