**Children are free for this event**- Build your own up-cycle puppet and create the world they live in with found things.
*** Free Places For Children ***
Space is available on this event! :-D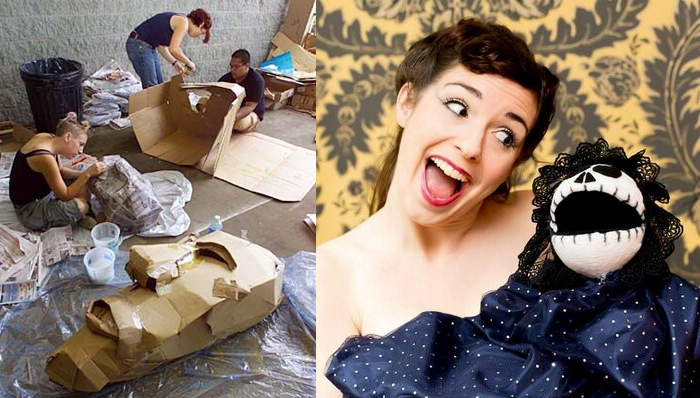 Led by Charlotte Randell
You will learn how to build a simple puppet from scratch, create clothes, a wig/facial hair and accessories etc. For extra giggles you may want to base your puppet design on someone known by the community /and or you might want to build a fantastical creature that flies around casting spells on people not doing their washing up duty. Backdrop boards will be painted and decorated for the puppets photo shoot midweek. To end the week a devised show will be performed by your puppets to an adoring audience. Calling all, every level, adult, child, childish adults, just  bring your imagination and we welcome cardboard boxes, old clothes, packets, old wrapping paper, foil,and  plastic bags. Hope to see you soon Charlotte Randell and friends
Charlotte Randell BA hons Design in Performance Central St Martins, GTP  textiles and art and design, currently working Head of Dept in Art and Design at Orchardside School
Arrivals: from 3pm Monday - first meal is dinner at 7pm
Departures: Saturday morning 11am
Cost: £215 (£160), Children up to 16 (up to 18 if in full time education) are free for this event.
When
29 Jul 2019 16:00 through 03 Aug 2019 10:00
Othona Community, Essex
East End Road
Bradwell-on-Sea
Essex
CM0 7PN-CM0 7PN
Contact
Landline:
01621 776564 ext. 01621776564
Landline:
01621776564 ext. 01621776564